2023年1月27日
Dialogue with NASA Administrator Bill Nelson
Dialogue with NASA Administrator Bill Nelson, 14th administrator of the National Aeronautics and Space Administration
<We have reached capacity and have closed applications. Those who have applied will be sent an information email tomorrow.>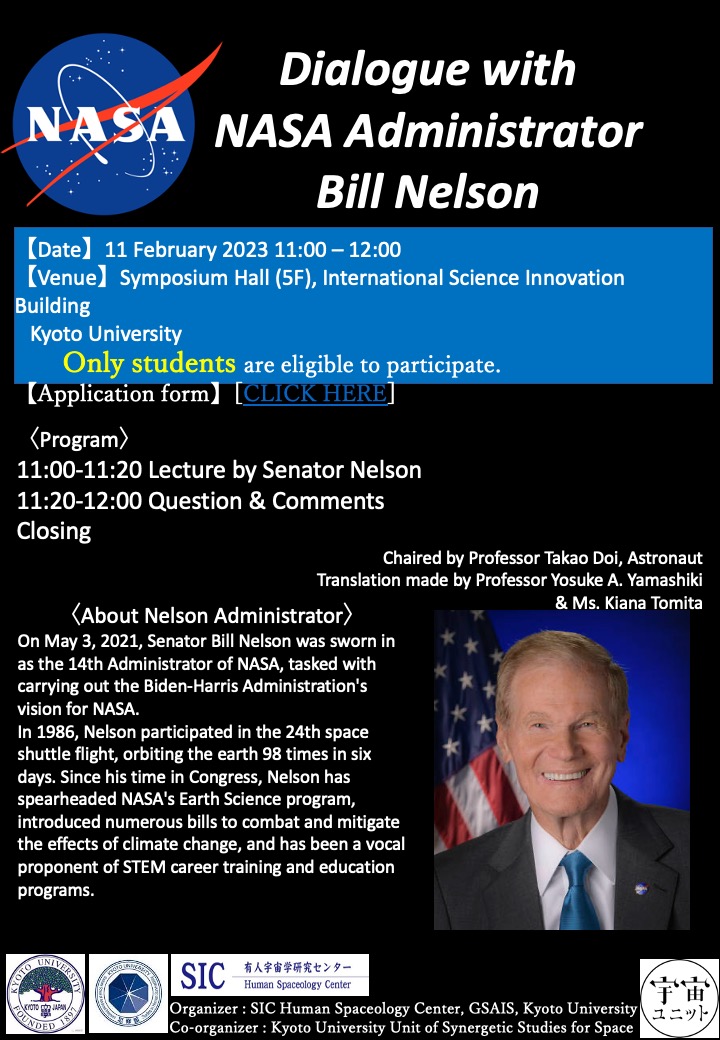 NASA_Administrator_Nelson_Kyoto_Poster PDF version
Organizer, SIC Human Spaceology Center, GSAIS, Kyoto University
Co-organizer, Kyoto University Unit of Synergetic Studies for Space
【Date】 11 February 2023 11:00 – 12:00
【Venue】 Symposium Hall (5F), International Science Innovation Building, Kyoto University
https://www.saci.kyoto-u.ac.jp/en/innovation/facility/
https://www.saci.kyoto-u.ac.jp/en/access/
Only students are eligible to participate.
*We have reached capacity and have closed applications. Those who have applied will be sent an information email tomorrow.
*Student ID is mandatory for participation.
*We will close the application very soon due to unexpected request for participation.
Click Here to Register
<Program>
11:00-11:20 Lecture by Senator Nelson
11:20-12:00 Question & comments
Closing
Chaired by Dr. Takao Doi, (GSAIS, Kyoto University Astronaut)
Translation made by Dr. Yosuke A. Yamashiki (GSAIS, Kyoto University)  Ms. Kiana Tomita (GSAIS, Kyoto University MPhil (Univ. Cambridge))
On May 3, 2021, Senator Bill Nelson was sworn in as the 14th Administrator of NASA, tasked with carrying out the Biden-Harris Administration's vision for NASA.
In 1986, Nelson participated in the Space Shuttle's 24th flight, orbiting the Earth 98 times in six days, and in 2010, Nelson passed landmark NASA legislation that set NASA on its current dual course, consisting of both government and private missions. He has also led the space program in Congress, having previously served six years in the U.S. House of Representatives and 12 years in the Senate as chairman of the Space Science Subcommittee and then as chairman of the Senate Committee on Commerce, Science, and Transportation In 2017, he authored the NASA Transition Authorization Act of 2017, which expanded NASA's commercial activities in space, and He drafted the bill. Since his time in Congress, Nelson has spearheaded NASA's Earth science program and introduced numerous bills to combat and mitigate the effects of climate change. Additionally, he was a vocal proponent of STEM career training and education programs to create future jobs.